How Low Will They Go?
This is insidious!
This is a campaign flyer from those who claim to be compassionate, those who claim to be sensitive to the needs of the handicapped.
Instead, this is a campaign flyer released by some son of a bitch candidate in Tenessee that mocks the retarded and those who choose to vote for Bush. In fact, some Democtrats are condemning it.
It's pretty mean, click if you want to see it.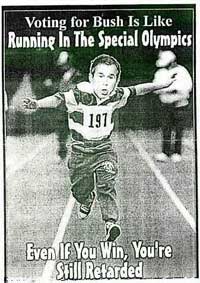 Posted by dr at October 13, 2004 12:48 PM | TrackBack